Things for Kids in Santa Fe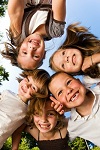 The games, the concerts, the field trips, and of course the parent teacher conferences, life as a parent is hard enough without your family vacation being just as hard. With all the day to day activities children have, they are not going to want to sit and sun bathe at the beach. Kids want to have something to do; without something to do, kids will be sure to make your vacation a little less vacation, so why not give them loads to do in Santa Fe? Santa Fe is packed with fun activities for kids of all ages, and just a few are listed for you:
Bradbury Science Museum
Older kids don't want to spend their days doing silly art activities, they want a little more brain activity than that, and what could be more interesting than the atomic bomb? Kids interested in science will learn all there is to know about the atomic bomb as well as be able to see fascinating inventions from contestants across the world.
Cumbres and Toltec Scenic Railroad
This fun endeavor is for anyone. Kids young and old and even adults will want to get aboard the old train for an excursion of a lifetime. Of course your youngsters will love if by chance you spot a prancing deer, a roaring mountain lion, a sneaky bobcat, or perhaps a brown bear. With lions, tigers, and bears as you follow the railroad, you're in for an adventure.
Casa Grande Trading Post
With plenty to do this rare commodity is something for everyone. A combination of a petting zoo, a mining museum, and Barbie doll exhibits, your whole family boy or girl will have something fun to do. Work in the turquoise min like a miner, or play with a black-haired beauty, but whatever you do don't forget to stop at Casa Grande Trading Post.
Santa Fe Children's Museum
Learning doesn't have to be boring; at Santa Fe Children's Museum your younger kids will have a ball in this huge playground that conceals its educational identity. Allow your kids to blow bubbles, get their faces painted, build structures from PVC pipes, scale the tallest wall, make jewelry, or weave a basket. But don't forget the waterworks areas where you will be sure to get soaking wet. When learning meets creativity, the fun never stops.
Wildlife West Nature Park
Zoos are always a spectacular place to go, but the Wildlife West Nature Park is sure to knock all the other zoos out of the water with its zoo twist of Southwestern animals and deep safari adventures. Each animal in this park was once injured, but upon taken into the park has fully recovered and are live for us to see. Watch the falcon show, the prairie dog habitat, or enjoy the lovely concerts and musicals for a day of zoo fun.