Santa Fe Palace of the Governors
While in Santa Fe, it is important that you visit some of the major attractions, especially if you want to learn more about this history of the city during your stay, along with the history of the entire state of New Mexico. If you do want to learn more, the Palace of the Governors in Santa Fe is a must-see attraction. Having been constructed several centuries ago, it has become a major historical landmark and museum for the city of Santa Fe and for New Mexico as a whole. The structure of the Palace of the Governors is intriguing to many tourists, as it is built in adobe-style.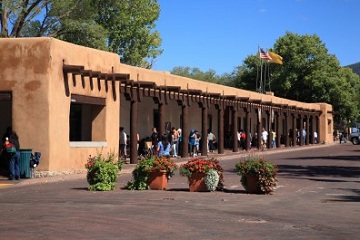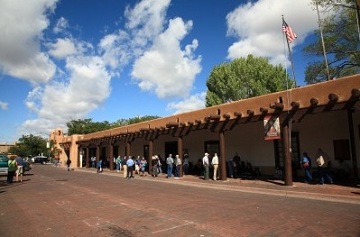 The Palace of Governors is open throughout the week from 10AM to 5PM but will usually remain open until 8PM on each Friday of the week. Residents of the New Mexico area get into the museum for $6 while tourists get into the museum for $9. Children under the age of 17 get into the museum for free. The admission fee is quite affordable, especially considering all that there is to see at this museum. People of all ages will enjoy a trip to the Palace of the Governors, especially because it provides hours of educational entertainment. While visiting the Palace of the Governors, you will notice that there are many different collections and exhibits within the museum. Some of the collections that you will see include the Segesser Hide Paintings, which shows what life was like way back when, in Spanish Colonial times, along with the Historical Society of New Mexico collection. There are also several other collections, including American Southwest, Mexico, and Spain.
Some of the exhibits that can currently be seen at the Palace of the Governors include Native American Portraits, which will be on exhibit until November, along with Contemplative Landscape, which will be on display until December of 2012. There are many other exhibits to be seen and enjoyed, each of which will change from time to time, so there will always be something fresh and exciting to see while visiting this museum. Each of the collections and exhibits will provide you with something enjoyable to see and remember, teaching your more about the history and culture of Santa Fe. A trip to the Palace of the Governors will be like no other museum you have ever been to before and it will surely be a memorable experience.